Finding the Right Type of Contact Lenses for Your Eyes is Important. 
Breslow Eye Care offers many lens options for your comfort.
Daily Disposable Contact Lenses
We take pride in providing you with the latest eye care technologies, including fitting you with daily disposable contacts. Daily disposables are worn for a full day, then tossed out at day's end. The next day, you get a fresh new pair of contacts without worrying about cleaning and storing them. Our patients like them for comfort and decreased health issues, and their decreased risk of infection is great for kids and new contact lens wearers.
Daily disposable contacts are an ideal option for you if:
You have dry eye issues wearing contacts
Allergies affect how long you can wear contacts
Gunk builds up on your lenses over time
You love that fresh feeling with a new pair of lenses
You're a busy, on-the-go person
You want the healthiest, most convenient lens option
We can get you in disposable contacts for great prices – and you can also forget about having to buy contact lens solution on a regular basis. This in itself will save significantly by year's end!
Interested in soft contact lenses? We proudly offer the latest designs to correct a full range of prescriptions including near sightedness, far sightedness and astigmatism. Do you have astigmatism and have been told you can't wear soft contact lenses? We can fit soft contact lenses to most any degree of correction. The designs we offer are also very breathable and comfortable on the eyes. Let us find the right soft contacts for your eyes – call our office to schedule your next contact lens examination.
Multifocal and Monovision Lenses
Many people know about soft contacts that can correct your distance vision. But did you know that new advances in contact lens technology now allows us to correct both distance and reading in the same lens? Around the age of 40, patients may start to experience symptoms of presbyopia, a condition that affects our eye's ability to focus at both far and near.
No-line and lined bifocal eyeglasses can correct presbyopia, but what if you'd rather not wear glasses? Multi-focal contacts are your best bet. We have many different soft multifocal contact designs, and we will find the most comfortable contact for your eyes while eliminating your need for bifocal or reading glasses.
Some patients may have a hard time adjusting to multifocal contacts. No need to despair. If multifocals don't quite meet your expectations, we can also fit your eyes with monovision contacts. In this option, one eye is designated as your distance eye, with the other eye functioning as your reading eye. At your next exam, ask us if you're a candidate for multifocal or monovision contacts. And please, don't hesitate to contact us with any questions about these exciting soft contact options!
RGP (Rigid Gas Permeable) Lenses
At Breslow Eye Care, we take pride in providing our patients with a variety of different options to correct their vision. In addition to fitting soft contacts, we are able to fit your eyes with hard contacts, also known as Rigid Gas Permeable (RGP) contacts. RGPs have evolved tremendously over the years they have been around. These lenses provide crisp vision to patients with high degrees of astigmatism, nearsightedness and farsightedness.
Do you have a hard time reading but don't want to wear reading glasses? Not a problem. RGP lenses are available in bifocal (multifocal) so you can read and drive without needing bifocal glasses. RGPs also work for patients with corneal conditions such as Keratoconus, Pellucid Marginal Degeneration, and post-Lasik. We would love to tell you more about rigid gas permeable and bifocal contact lenses at your next appointment!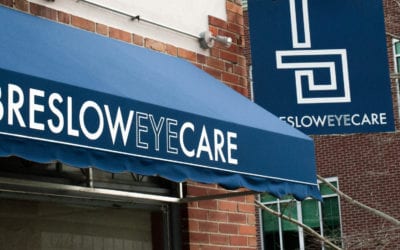 How do you choose the right eye doctor for your family and personal needs? Is it best to look for an eye doctor near you? Should you see an optometrist or ophthalmologist? We share some thoughts…
read more
Bexley Eye Care Office
2354 East Main Street
Bexley, OH 43209
T: 614-235-9393
Lancaster Eye Care Office
3794 Old Columbus Road Northwest
Carroll, OH 43112
T: 740-756-7700
All Content © 2023 Breslow Eye Care