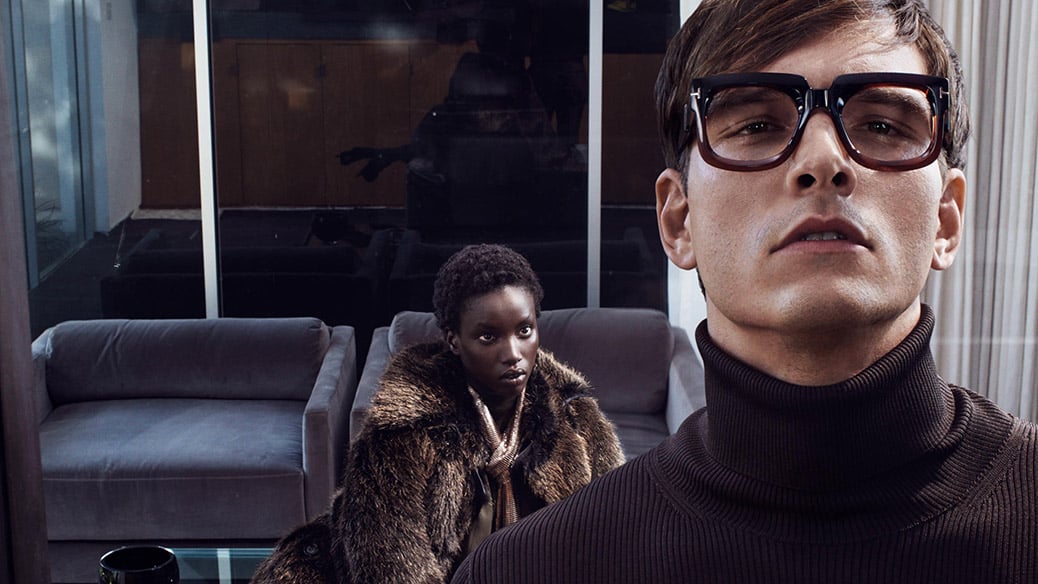 Tom Ford Sunglasses
For Spring/Summer 2020, Tom Ford has released four new women's sunglass frames to go with an exceptional range of optical frames. We can make prescription lenses for any sunglass frames, and can ship to wherever you are. You'll find our prices are pretty much the same as online frames stores, and working with an actual eye doctor is often much more productive.
The former Design Director of Gucci in Italy and Creative Director of Yves Saint Laurent Rive Gauche and YSL Beaute, Tom Ford always makes an impact with his company's contemporary designs and high-quality, classy eyeglass frames. Launched in 2005, the Tom Ford brand has been part of the fashion landscape ever since.
As eye doctors and opticians, we love working with Tom Ford sunglasses because they are extremely well made and thrill our patients with their fit, comfort and style. Imagine not having to sacrifice clear vision just because you're spending time outside – then imagine looking great while you're out. That's what you get with prescription sunglasses from Breslow Eye Care in a sweet pair of Tom Ford frames.
Women's and Unisex Sunglasses
These striking sunglasses come in three colors – white, black and dark havana – and have a beautiful soft rounded acetate shape with tubolar profile. The trademark Tom Ford "T" is prominent in metal in the traditional area at the hinge. 
This striking butterfly acetate shape comes in four colors – pink, black, beige and havana – with a colored metal temple. They are big and bold at 55 mm tall, but Tom Ford is known for style without limits. A combination of throwback and modern styling, the 2020 Gia sunglasses will likely never go out of style, and their impeccable quality with custom lenses by Breslow Eye Care means they will be your go-to sunglasses for many years to come.
The striking butterfly shape of these 2020 collection sunglasses are made possible by the high geometrical metal temple that creates an extra bold traditional Tom Ford "T" logo. Available in beige (shown here), black and Dark Havanna, the drastic shape of the Tallulah can do wonderful things for the right face shape, accentuating the natural curvature of your cheekbones and chin and highlighting your hairstyle.
A modern take on the iconic RayBan Aviator sunglasses, Tom Ford has spun the Stevie sunglasses into a graceful, artistic variation of a traditional style. The frames around the glass add the iconic infinity detail with a high-set hinge and metal "T" logo. Stevie sunglasses have adjustable nose pads for all-day comfort great for driving, poolside lounging and sidewalk shopping.
Also found as the FT0800, these bold sunglasses have a plastic navigator shape with metal temples complete with the trademark "T" logo. If they're a look you want to make all your own, we can even fit these with prescription lenses that darken outside, but stay clear indoors. 
Remember that trend in the 80s of leather spoilers on the sides of sunglasses to block out light? The Tom Ford Fender sunglasses, also known as the FT0799, pull off the same effect with a ton of class. Full plastic geometric frames feature a bold spoiler on the side with the unmistakable Tom Ford "T" logo at the hinge. They do look awesome, but that spoiler is also functional, blocking out a lot of light from the sides. Let Breslow Eye Care make these your personal prescription sunglasses with scratch-resistant lenses for many years of use!
Look closely – these sunglasses have a single lens that covers the entire front of the glasses. Because of this, the "T" logo remains only on the sides. It's both a traditional frameless bottom design, and a futuristic blade look. 
Tom Ford makes eyeglasses too.
Tom Ford's optical line is just as remarkable, and also available at Breslow Eye Care. While a little more subtle for every-day use, they're still exceptionally design-forward and meticulously crafted.
If you're in Ohio, come to our Bexley location just outside downtown Columbus, or our Lancaster location in Carroll, just north of town. Or you're welcome to give us a call at either location and we can ship your Tom Ford optical or prescription sunglasses to you.
You can find 2019 and earlier glasses in our office and at the Tom Ford website at www.tomford.com/eyewear or by coming into one of our offices. You won't find better prices online or anywhere else, and we provide the added benefit of optician services to adjust them to your liking so you're satisfied with how they feel.
Bexley Office
This office is just 10 minutes from downtown Columbus in beautiful downtown Bexley. The building is a vintage brick storefront with real wood floors and mature trees lining the sidewalks. There is plenty of free parking on the street and several great places to grab a bite during your lunch hour, or pick up dinner on the way home.
This eye care center has a great selection of brand name eyeglass frames, and we can perform complete eye exams, including retinal photography.
Lancaster Office
Located just north of Lancaster on the way to Columbus, this eye care office is conveniently located just off Route 33.
While closed on Monday and Sunday, our Lancaster Eye Care center is open late throughout the week and also open Saturdays!
Dr. Nadine is most often at this location, so you know you're going to feel welcome and comfortable.
Bexley Eye Care Office
2354 East Main Street
Bexley, OH 43209
T: 614-235-9393
Lancaster Eye Care Office
3794 Old Columbus Road Northwest
Carroll, OH 43112
T: 740-756-7700
All Content © 2023 Breslow Eye Care