We Offer a Huge Selection of Eyeglass Frames. Check Out our Favorites! 
Choose your next eyeglass frames from popular brands like Tom Ford, Coach, Kate Spade, Tory Burch, John Varvatos, Tommy Hilfiger, Max Mara, Carrera, Harley Davidson, Nike, Scott Harris, Haggar, and many more! We can help you find the right fit and style, whether you want your eyeglasses to make a fashion statement, or sit more subtly on your face.
We carry a wide range of glasses in both of our optometry offices so you can browse at your leisure, try on as many as you like and take time selecting something you'll love. We even carry inexpensive eyeglass frames if you just need a pair of reading glasses or are on a super tight budget. Most all vision insurance will help defray the cost of eyeglasses though, and since it's something you'll have with you often, if not always, it's worth doing what you can to get a good pair of glasses.
Prescription Eyeglasses – What to Look For
Since your glasses become a part of your face, it's important to select brand name glasses that fit your personality, your facial structure and your daily routine. Our selection of brand name eyeglass frames were picked by Matt and Nadine Breslow personally for their fashion sense, functionality, durability and price. Our licensed opticians can help you select frames that work with your facial structure and how you use glasses, and together, you can select something that looks just right.
Here are some of our most popular brands of prescription glasses:
Tom Ford
Tom Ford was born and raised in the United States and graduated from a New York design school with a degree in architecture. He has worked for fashion design companies like Gucci and Yves Saint Laurent before launching his own lines of clothing, accessories, and eyewear. Tom Ford has been recognized for numerous awards in design, fashion, and even directing. This line of eyewear boasts quality frames, bold colors, and trendy shapes.
Coach
Founded in 1941 as a family-run workshop in a Manhattan loft, Coach has grown into a leading American designer and marketer of fine accessories and ready-to-wear for women and men around the world. Under license since 2012, the Coach eyewear collection perfectly expresses the effortless New York style and the authentic American heritage of the Coach brand.
Ray Ban
The Ray-Ban brand is most well-known for their aviator style sunglasses. The U.S. army was in search of sunglasses for their pilots that would reduce glare while blocking the sun, thus leading to the creation of the Ray-Ban aviator glasses with the signature green lenses. Their iconic style has made them a leader in sun and prescription eyewear for generations.
Ordering Prescription Eyeglasses
After your prescription has been determined and you've selected eyeglass frames, you can either take the pair home that we have on display or in our in-store inventory, or we can order a pair. We can also look up brands we may not have in our office and order them for you. Usually by the time your lenses are ready, your frames are ready as well.
If you just want something different and already have your prescription, you're more than welcome to come try on new frames and we'll have new lenses made for them. And if you're set on a brand that somehow we don't carry, we have access to virtually every brand of eyeglass frames there is, and will place an order for you. The benefit of ordering and buying from us is our trained opticians will adjust your new eyeglass frames to fit just right.
Buying Prescription Eyeglasses Online vs From Breslow Eyecare
In the age of Amazon and online shopping, it is tempting to think – I can just buy my eyeglass frames online and save a bunch of money. But the reality is – not so much! Shop us and any online glasses site and you'll find prices are pretty much the same, and sometimes they even cost less through us! And there's the added benefits that online retailers can't touch – licensed opticians to fit your glasses, someone to go to if there's a problem with them, and even the benefit of someone to "tune up" your frames after a while.
So while we applaud your money-saving instincts (we're the same way!), we also don't want you experiencing the hassle of working with an online eyeglass frame retailer. For the same price, you get all the benefits of working with our opticians and Matthew and Nadine Breslow. And you can try on glasses from our extensive selection whenever you want!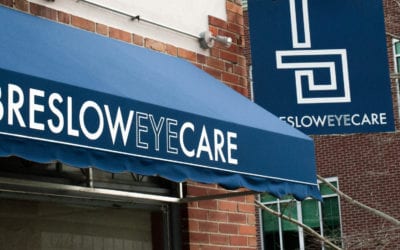 How do you choose the right eye doctor for your family and personal needs? Is it best to look for an eye doctor near you? Should you see an optometrist or ophthalmologist? We share some thoughts…
read more
Bexley Eye Care Office
2354 East Main Street
Bexley, OH 43209
T: 614-235-9393
Lancaster Eye Care Office
3794 Old Columbus Road Northwest
Carroll, OH 43112
T: 740-756-7700
All Content © 2023 Breslow Eye Care