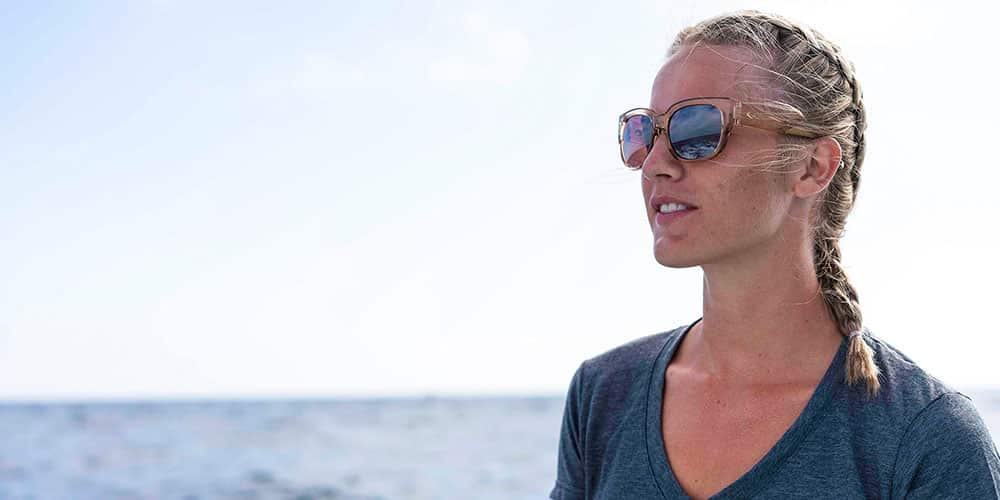 Costa Del Mar Sunglasses
The latest sunglasses from Costa Del Mar include some great iterations on classic designs and bold new colors. At Breslow Eye Care, we can make prescription lenses for any Costas frames, and can even ship to your location.
All Costas are made in Daytona Beach, Florida, where each frame is hand-assembled – a tradition that ensures accurate, quality construction. Costa sunglasses come in four sizes – small, medium, large and extra-large – and come with a full two-year warranty. It's an investment in style and function that'll last for years.
To make things even better, Costa is an extremely ocean-friendly company. They make their frames with materials derived from natural sources. Costa supports a select group of organizations that work to keep the oceans clean for sportfishers and recreation, making them a popular choice of sunglasses for professional and amateur fishermen and women.
Women's and Unisex Sunglasses
This is a narrow-fitting, large frame pair of sunglasses for the active woman with an affinity for life on (or near) the water. Polarized lenses keep her active in the sun, while integrated Hydrolite® accents help keep them in place. You can see yourself in these, can't you…
Named after the small Florida costal town of Fernandina, this unisex frame is great for smaller faces. It comes in beautiful ocean-inspired colors with acetate temples for added color. For a sweet-looking, easy to wear pair of sunglasses for every occasion, this might be your answer. And remember – Breslow Eye Care can make these into your favorite prescription sunglasses, no problem at all.
OCEARCH is "a data-centric organization built to help scientists collect previously unattainable data in the ocean." The OCEARCH Collection from Costa Del Mar has a new addition – the OCEARCH Loreto, named after the small town in Mexico in the Sea of Cortez. Durable and attractive, these sunglasses were designed for the active explorer.
Shown here in Matte Atlantic Blue, the Rinconcito is a "little brother" to Costa's Rincon frame. Blending West Coast style and edgy, curved temples, this new addition to Costa's line of sunglasses was named for the iconic So Cal right point break. Hydrolite nose and temple pads and integral spring hinges makes these sunglasses a great pick for active days – especially with prescription lenses from Breslow Eye Care.
This new addition to Costa Del Mar's line is the most advanced sport performance sunglasses from Costa yet. They feature an innovative vented spring hinge system that increases airflow and improves fit, plus manages sweat with channels that move sweat away from the face. They are built with tips ready to hold straps, and wide coverage to eliminate light leak. Named after San Diego, California, a favorite fishing region, Costa's Diego sunglasses are an extremely comfortable way to spend time in the sun, especially if you're on the water.
The masculine design of Flagler has a Monel frame with acetate temples for strength and style. Their design sports a strong, rectangular lens profile inspired by the small Florida beach town with the same forward-thinking name. 
Costas also makes eyeglasses.
We can make awesome prescription sunglasses for you, but Costas also makes beautiful eyeglasses that are made with the same eye for nature in both design and materials. Our opticians can help you select, and fit, the perfect Costa eyeglass frames for you, including these current Costa Optical styles.
Contact us about Costa Del Mar prescription sunglasses, either at our Bexley or Lancaster location, or by giving us a call at either location. We can help you with Costa sunglasses, prescription sunglasses or prescription glasses – and when you experience how sweet these designs and frames are, you're going to want a pair of each.
You can see more pictures of the glasses above at the Costa Del Mar website or by coming into one of our offices. Our prices are the same you'll find online or anywhere else, but we provide the added benefit of optician services to fit them to you make sure you're satisfied with how they feel.
Bexley Office
This office is just 10 minutes from downtown Columbus in beautiful downtown Bexley. The building is a vintage brick storefront with real wood floors and mature trees lining the sidewalks. There is plenty of free parking on the street and several great places to grab a bite during your lunch hour, or pick up dinner on the way home.
This eye care center has a great selection of brand name eyeglass frames, and we can perform complete eye exams, including retinal photography.
Lancaster Office
Located just north of Lancaster on the way to Columbus, this eye care office is conveniently located just off Route 33.
While closed on Monday and Sunday, our Lancaster Eye Care center is open late throughout the week and also open Saturdays!
Dr. Nadine is most often at this location, so you know you're going to feel welcome and comfortable.
Bexley Eye Care Office
2354 East Main Street
Bexley, OH 43209
T: 614-235-9393
Lancaster Eye Care Office
3794 Old Columbus Road Northwest
Carroll, OH 43112
T: 740-756-7700
All Content © 2023 Breslow Eye Care