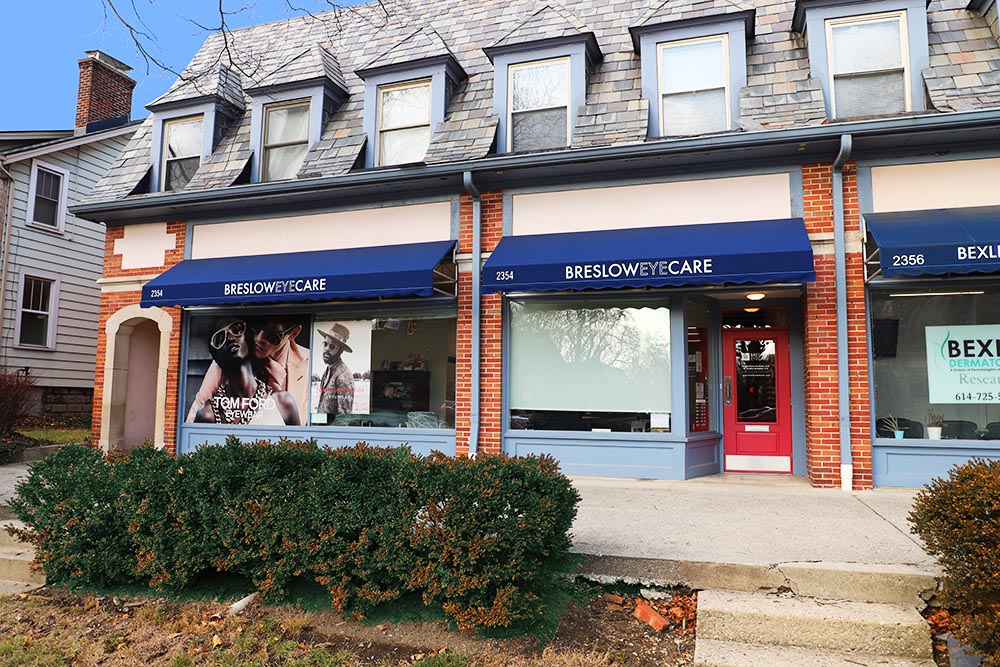 New Bexley Office Space
We welcome you to our new office
In 2019, we built out and moved into the offices right next to our previous office on East Main Street in downtown Bexley. The new space is much bigger, and with a complete renovation we were able to make the space more functional, welcoming, brighter and a generally nice place to be for an eye doctor appointment.
If you've been to our previous location at 2358 E Main Street in Bexley, then you've pretty much been to our new office – it's right next door! Our new address is 2354 E Main Street in Bexley. And being in the same building means several of the same niceties are still there – big front windows, beautiful hardwood floors and big-time convenience.
Bright new eye care office space
The lobby and eyeglass display area is big and bright, lined with a great selection of eyeglass frames from lots of great brands, like Tom Ford, Costa Del Mar, Coach, Ray Ban and so many more.
We now have four new patient rooms for complete eye exams, including retinal photography. These rooms are separate from the main office area for added privacy.
Comfortable, open waiting area
If you do need to wait, our bright, clean waiting area is much larger, and right in front by the full windows that look out onto East Main Street. We do our best to make sure you don't spend more than a few minutes in the waiting area – being just minutes from downtown, we have lots of patients who squeeze in an eye doctor appointment during a lunch break, or run out to our office from work for a quick appointment, and we do our best to get them in and out as quickly as possible. But don't ever hesitate to ask questions during your appointment! It's very important to us that you never feel rushed.
Outside of the actual eye exam, most patients spend the majority of their time browsing eyeglass frames, trying on glasses and having their glasses fitted by an Optician. Our new office space has a larger optical space and more workstations where an Optician can spend dedicated time with you and your new glasses. 
We're excited for our new office space and the added convenience and relaxing atmosphere it can offer our valued patients! You are always welcome to come in and see the new space, and "window shopping" for glasses is also welcome – we get new frames all the time we think you'll love. And remember, we also have an office in Carroll, Ohio, just outside of Lancaster on the north end. We work hard at both offices to ensure the best and most accurate eye exam you'll find anywhere. Hopefully our new office space in Bexley will also provide the most comfortable, relaxing eye exam anywhere.
Bexley Office
This office is just 10 minutes from downtown Columbus in beautiful downtown Bexley. The building is a vintage brick storefront with real wood floors and mature trees lining the sidewalks. There is plenty of free parking on the street and several great places to grab a bite during your lunch hour, or pick up dinner on the way home.
This eye care center has a great selection of brand name eyeglass frames, and we can perform complete eye exams, including retinal photography.
Lancaster Office
Located just north of Lancaster on the way to Columbus, this eye care office is conveniently located just off Route 33.
While closed on Monday and Sunday, our Lancaster Eye Care center is open late throughout the week and also open Saturdays!
Dr. Nadine is most often at this location, so you know you're going to feel welcome and comfortable.
Bexley Eye Care Office
2354 East Main Street
Bexley, OH 43209
T: 614-235-9393
Lancaster Eye Care Office
3794 Old Columbus Road Northwest
Carroll, OH 43112
T: 740-756-7700
All Content © 2023 Breslow Eye Care