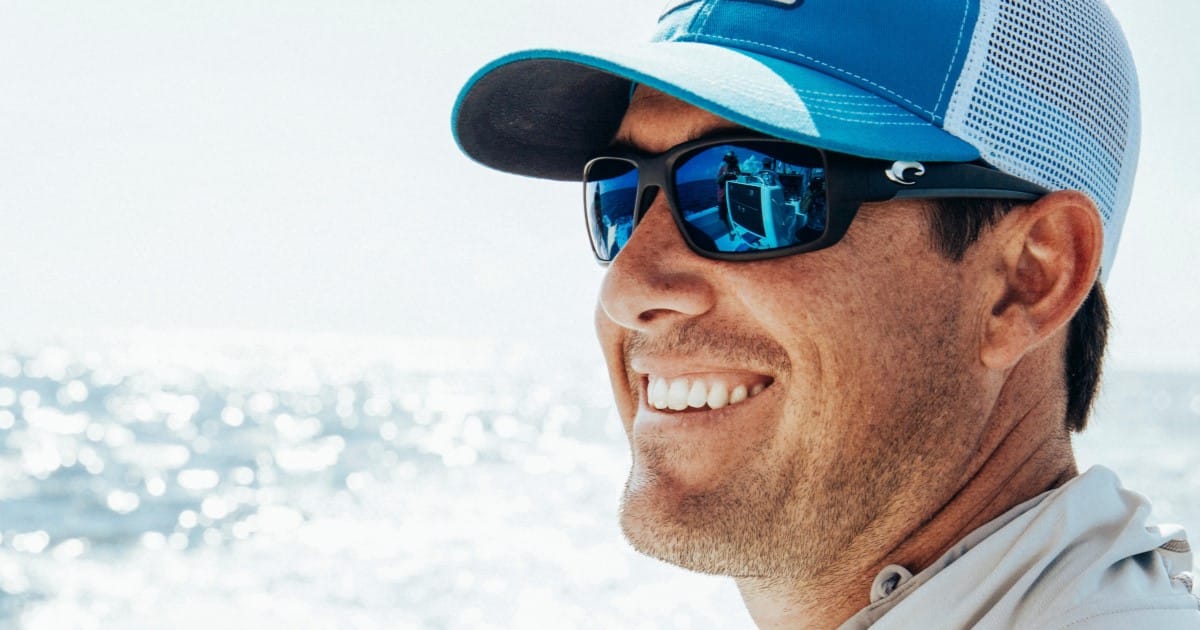 Costa Del Mar Glasses
Costa Del Mar glasses are among the best outdoor glasses anywhere, and we don't feel enough people know about them. Take a quick look!
All Costas are hand assembled in Daytona Beach, Florida, because "we have yet to find a machine that does the job as well as a real, live person." They come in four sizes – small, medium, large and extra-large – and they're backed by a two year warranty. What more could you want?
Well, how about a commitment to help care for the oceans? Frame materials from nature? Environmentally friendly materials? As a popular brand for anglers (fishermen), Costa supports a select group of efforts to keep the oceans clean and fish-able, including free from used, broken fishing nets that catch and kill sea life.
Costas as daily eyeglasses.
Yes, we can create prescription sunglasses for you – but Costas also makes exceptional eyeglasses that reflect nature in both design, and materials. Our opticians can help you select, and fit, the perfect Costa eyeglass frames for you, including these current Costa Optical styles.
With a lightweight fit and corrosion-resistant metal styling, Bimini Road eyeglasses come in titanium and MonelR. There are seven frames in the collection.
This collection is inspired by the ancient cypress forest found submerged in the Gulf of Mexico off the coast of Alabama. Laser-cut wood inlays give them a distinctive character that blends well with these high-fashion frames. If you appreciate craftsmanship, you need to stop by and see these frames.
With a lightweight fit and corrosion-resistant metal styling, Bimini Road eyeglasses come in titanium and MonelR. There are seven frames in the collection.
Made from a nearly indestructible bio-based resin nylon, Ocean Ridge glasses are made for the active, outdoor adventurer who may even spend time in extreme heat or cold. As much as they're extremely capable, they also manage to be very cool looking.
From the western hemisphere, the sun doesn't rise over the ocean. But it does rise over everything from deserts, to mountains, to prairies and wooded hills. Pacific Rise glasses are designed with topographic features fused onto the temples. And these daily-wear glasses are all about comfort.
With titanium construction, Costa is able to make minimalistic style glasses that can still handle daily wear in active situations. With the Seamount line, the temple sleeves help keep them in place, because both full rim and rimless Seamount prescription eyeglasses are so light, you will forget you even wear glasses.
We invite you to come experience Costa Del Mar prescription eyeglass frames at Breslow Eye Care in Bexley, and Lancaster. You'll find Costas are so cool, you'll want both prescription sunglasses and eyeglasses.
Visit the Costa Del Mar website to learn more about this great line of glasses, then come back and call us to place your order! Remember – our prices are the same you'll find online or anywhere else, but we'll help fit them to your face and give you the care and attention you deserve.
Bexley Office
This office is just 10 minutes from downtown Columbus in beautiful downtown Bexley. The building is a vintage brick storefront with real wood floors and mature trees lining the sidewalks. There is plenty of free parking on the street and several great places to grab a bite during your lunch hour, or pick up dinner on the way home.
This eye care center has a great selection of brand name eyeglass frames, and we can perform complete eye exams, including retinal photography.
Lancaster Office
Located just north of Lancaster on the way to Columbus, this eye care office is conveniently located just off Route 33.
While closed on Monday and Sunday, our Lancaster Eye Care center is open late throughout the week and also open Saturdays!
Dr. Nadine is most often at this location, so you know you're going to feel welcome and comfortable.
Bexley Eye Care Office
2354 East Main Street
Bexley, OH 43209
T: 614-235-9393
Lancaster Eye Care Office
3794 Old Columbus Road Northwest
Carroll, OH 43112
T: 740-756-7700
All Content © 2023 Breslow Eye Care